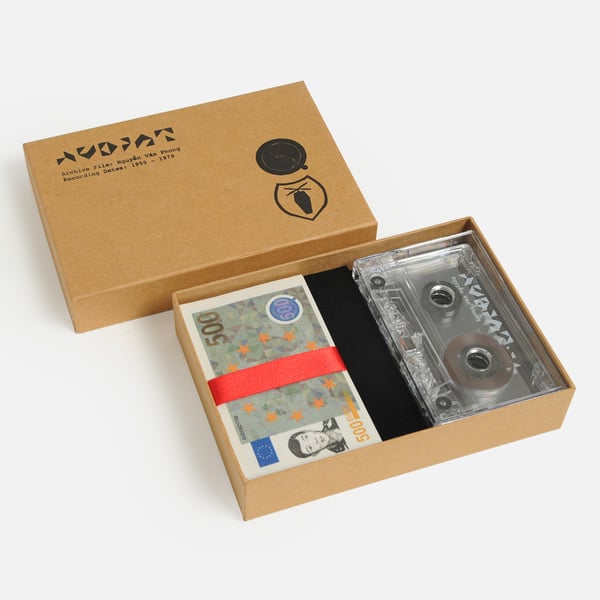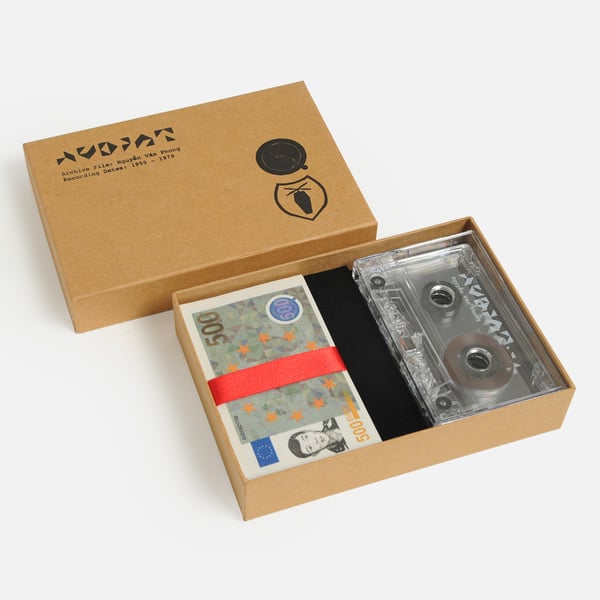 Reel Torque Vol 32 AUDio003 Nguyễn Văn Phong Archive 1955-1979
£20.00 / Sold Out
AUDINT Archive File:
Nguyễn Văn Phong
Recording Dates: 1955 - 1979
Pro-printed C33 prison tape housed in deluxe, hand-stamped manilla archive box with liner notes and a stack of ribbon-bound, bespoke-printed ghost money totalling approx. €48000. Limited edition of 128. No repress.
In part 2 of AUDiNT's cultish cassette boxset trilogy issued by Reel Torque, the secretive sonic research cell disclose two tranches of beguiling experiments by Vietnamese bioacoustics expert, computer programmer and financial strategist Nguyễn Văn Phong; one side of funeral rites and gong loops recorded c. 1955-1960 on his modified yin yang turntable, as well as one side of his early, algorithmic attempts c. 1972-1979 to forecast stock market data for his financial consultancy, IREX.
Serving to expand the project's chronology both prior to, and post-, Magdalena Parker's Reel Torque Vol.16: Recordings 1964-1972 (which sold out in less than 24 hours upon release in 2015) and after the Martial Hauntology (2014) LP, the 2nd instalment in the series focuses on Văn Phong's elaborate history of research into the methodological overlaps between occidental religion and innovative technology and, likewise, their synaesthetic, cybernetic and mystic applications in the field of phantom sonics.
Side A consists of two Inverse Rites and six Yin Yang Turntable pieces recorded between 1955-1960, both drawing on Văn Phong's studies at Ho Chi Minh City University of Technology in the '50s, where he specialised in practical heterodyning techniques - processes in which simultaneous ultrasonic tones were harnessed to produce interference patterns.
The two Inverse Rites manifest that research in palindromic loops of back-masked funeral chants intended to be played in conjunction with the sacrificial act of burning ghost money (as included in the boxset), which, according to Eastern theology, is a sort of Western Union for the departed. The six moebius strip-like Yin Yang Turntable tracks follow, using bespoke records cleft and reassembled along an S-shaped line, further demonstrating his conception of gong music and the 3rd Ear's potential for blurring distinctions between sound and unsound - the audible and non-audible - and the way they shadow each other like yin and yang. For Văn Phong, it is these two opposing, yet complementary forces - whose tension and collision generates everything - that hold the key to his research.
Side B is where things start getting truly asymmetric. In eight Channelling The Market tracks, realised between 1972-1979, Văn Phong supplements his earliest experiments into the physiological effects of interference patterns on the 3rd Ear with knowledge of Korean brainwashing techniques deviously acquired at an academic conference in Shanghai, 1959.
That knowledge enabled Văn Phong to devise a system for opening an activating the 3rd Ear, turning him into both a conduit for the voices of the dead or those no longer present, and also providing him with the uncanny ability to forecast economic markets. The densely chaotic results are patently psychotomimetic, whilst their use in fiscal manipulation at IREX is up for dispute. But it should be considered that Văn Phong did these experiments knowing the potential that his body could be hijacked by these phantoms voices, which could effectively turn him into a zombie, or transductive cadaver.
In the final analysis, what Văn Phong has done is to produce a mathematical algorithm for transcoding the voices of the undead into implementable market data, rendering the phantom economy of Ghost money into tangible assets.
Price - £20
Shipping
UK - £4
Europe - £6
USA - £8
Worldwide - £8